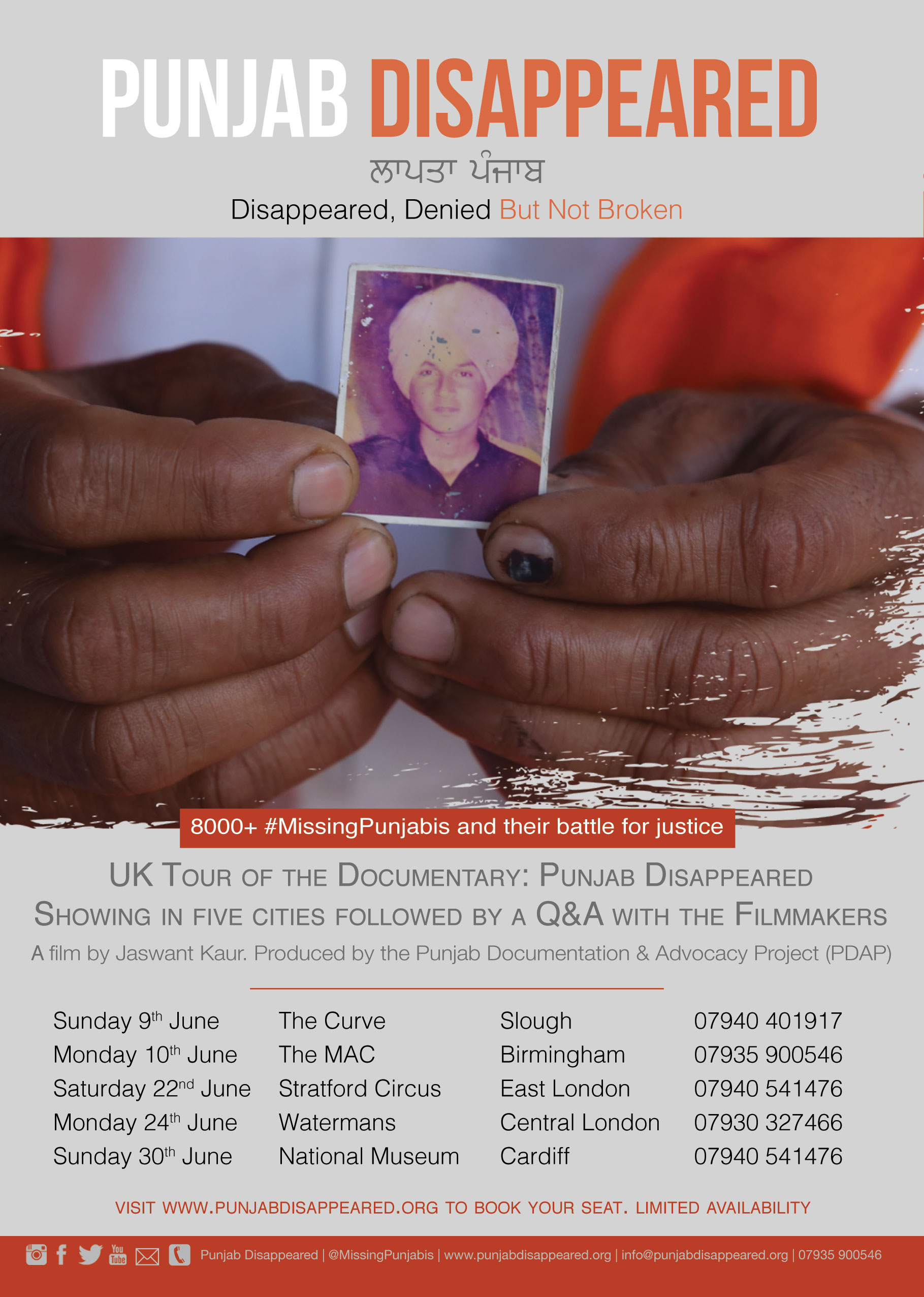 In June the PDAP team will travel to the UK for a 5 city tour of the Punjab Disappeared documentary.
Five prestigious UK theatres have been booked for the tour. These are:
The Curve in Slough on Sunday 9th June
The MAC in Birmingham on Monday 10th June
Stratford Circus Arts Theatre in East London on Saturday 22nd June
Watermans in Central London on Monday 24th June
The National Museum in Cardiff on Sunday 30th June
SYNOPSIS OF THE DOCUMENTARY:
Punjab Disappeared is a documentary about enforced disappearances, extra-judicial killings and mass secret cremations in Punjab that took place during more than a decade of conflict.
For years the voices of families of those disappeared in Punjab remained silenced. This documentary showcases those determined voices sharing a common trauma of being genocide survivors.
After the documentary screening, a question and answer session will take place with the filmmakers.
You can book your tickets online using the following links:
Sunday 9th June – The Curve, Slough (SL1 1XY) 3.30pm
www.punjabdisappearedslough.eventbrite.co.uk | 07940 401917
Monday 10th June – The MAC, Birmingham (B12 9QH) 7pm
www.macbirmingham.co.uk/event/punjab-disappeared | 0121 446 3232
Saturday 22nd June – Stratford Circus Arts Centre, East London (E15 1BX) 3pm
www.punjabdisappearedstratford.eventbrite.co.uk | 07940 541476
Monday 24th June – Watermans, London (TW8 0DS) 7pm
www.watermans.org.uk/events/punjab-disappeared | 0208 232 1010
Saturday 30th June – The National Museum, Cardiff (CF10 3NP) 3pm
www.punjabdisappearedcardiff.eventbrite.co.uk | 07940 541476
Seats are strictly limited. Be a part of history in the making and attend. Thank you.