NEW EVIDENCE OF 8257 CASES OF DISAPPEARANCES,

MASS KILLINGS, FAKE ENCOUNTERS AND ILLEGAL CREMATIONS IN PUNJAB: RELEASE OF INVESTIGATIVE REPORT AND PEOPLE'S TRIBUNAL FINDINGS TO BE PETITIONED TO THE SUPREME COURT OF INDIA
Compelling new evidence has been collated of 8257 cases of enforced disappearances and fake encounters following a 7-year investigation by the Punjab Documentation and Advocacy Project [PDAP]. The killings which took place across Punjab from the 1980s to 1995 are released in the PDAP's report "Identifying the Unidentified." The investigation reveals thousands of previously unknown, unclaimed, unidentified mass cremations from records recently obtained.
The report presents detailed and verifiable evidence of these systematic killings by the Punjab police and security services, during the period of militancy and counter-insurgency in all of its 22 districts.
The release of our investigative report is a major step for victims. Its findings will be submitted to the Supreme Court of India to investigate and deliver justice to all victims of disappearances and killings across Punjab beginning with these 8257 cases.
Our initial investigations resulted in an Independent People's Tribunal (IPT) which was held over two days in Amritsar in April, in which a composite panel of retired judiciary, lawyers and activists from across India came together to hear the testimonies of 700 hundred victim families. The IPT comprised of Justice A. K. Ganguly (Retd. Supreme Court Judge), Colin Gonsalves (Senior Advocate, Supreme Court), Kavita Srivastava (National Convener, PUCL), Bibi Paramjit Kaur Khalra (Khalra Mission Organisation), Justice Suresh (Retd. Bombay High Court Judge), Babloo Loitongbam (Human Rights Alert, Manipur), Tapan Bose (Sec. Gen South Asian Human Rights Forum), Soni Sori (Tribal Rights Activist, Chhattisgarh), and Parveena Ahangar (Association of Parents of Disappeared Persons, Kashmir).
The report also critically considers the on-going failings by the National Human Rights Commission in the "Punjab Mass Cremations" case based on the work of murdered human rights activist Jaswant Singh Khalra in 1995, who first exposed and uncovered 2097 mass killings and cremations in three cremation grounds in the district of Amritsar. We continue his work which remains unfinished and presents only a partial picture of the actual number of killings that took place in Punjab.
"Families need to know what happened to their loved ones who disappeared. The evidence of these new mass cremations must be independently investigated for justice and accountability."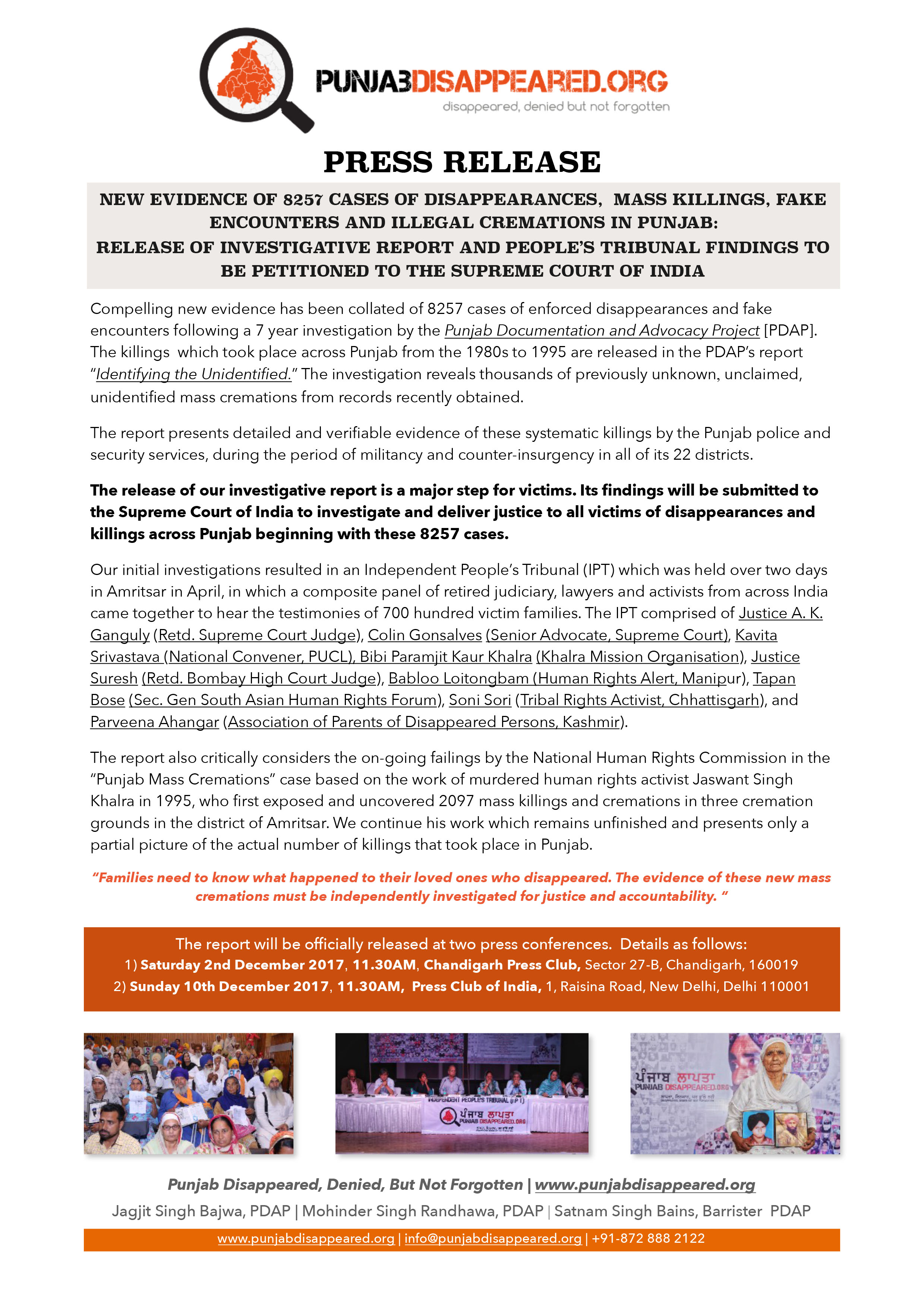 https://punjabdisappeared.org/wp-content/uploads/2017/12/Report-cover-Nov-2017-WEB.jpg
3579
2551
Sukhjit
https://punjabdisappeared.org/wp-content/uploads/2017/03/punjab.png
Sukhjit
2017-11-28 17:59:00
2017-12-09 18:28:02
Release of Investigate Report - Press Release