Press Note:
Farmers in India and the fundamental right to protest
International Human Rights Day 2020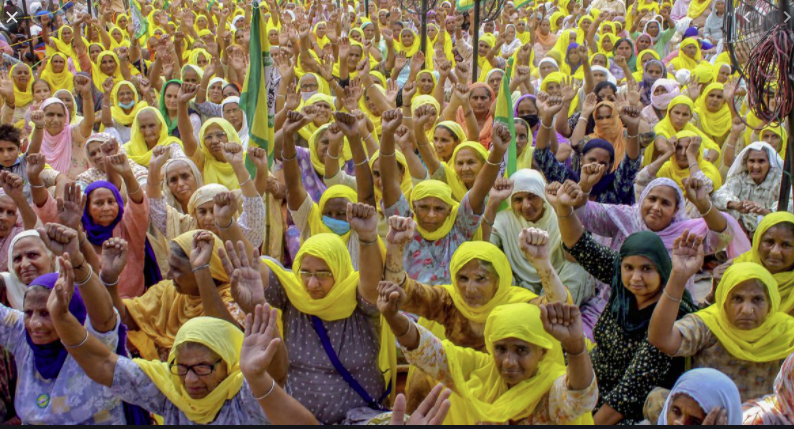 As the protests against India's new farming laws intensify across India, the Government of India has an obligation to protect and uphold protestors human rights, not to demonise them.
Weeks of protests by farmers from Punjab and Haryana intensified against three controversial farming laws which abolish Minimum Support Pricing (MSP) for farmers, led to a call for protestors to make their way to the national capital Delhi. On the 8th of December the protests had spread with farmers across India leading a country wide strike and shut down (band). Many of these poor and marginalised farmers, battled against the onset of winter amidst a world-wide pandemic travelling the 500km by foot, on tractors, scooters and other vehicles.
During the initial stages the farmers were prevented from entering Delhi by armed police and paramilitary forces using water cannons, tear gas and batons. The use of arbitrary force on these unarmed and peaceful protestors was condemned in the strongest possible terms. The use of water cannons, tear gas and canes (lathi charging) and other coercive measures was disproportionate and unjustified. Such measures can only be deployed where it is reasonable and proportionate to do so. In places there are credible reports of arbitrary arrest, detention with even the Chief Minister of Delhi alleging that his support for the farmers have led to his house arrest. In the present circumstances, where a large number of peaceful unarmed protestors are exercising their democratic right to peacefully protest the use of force is illegal under both Indian and international law.
The right to protest is a democratic and fundamental civil right under the Indian Constitution and protected in international law as an inviolable right and tradition which must be respected and upheld. We are deeply concerned of reports that the Haryana State Government has arbitrarily arrested and detained a number of leaders of farming organisations and protestors. It is reported that one protestor, who is alleged to have turned off a water cannon, has been charged with Section 307 of the Indian penal Code (Attempted Murder) others have been beaten and at various intersections farmers have had their tractor-trolleys and trucks impounded and many implicated in false and fabricated cases, a pattern which repeated during the nationwide protest in recent days. Outside of Punjab and Delhi there have been reports of arrests of 1100 people in Madurai district in Tamil Nadu of which 240 are women.
We are equally concerned of some sections of the Indian media irresponsibly reporting a benign and sinister motive behind the protests claiming that 'terrorist elements' are leading the protestors and thereby maligning the farmers and legitimate protests, without any objective basis or foundation for asserting so. The role of journalists in ensuring that events are reported in an objective and fair manner is paramount so as not to inflame an already volatile situation and we remind the Indian press of their own ethical obligations and responsibilities as set out in their code of conduct set forth by the Press Council of India which prohibits reporting of "inaccurate, baseless, graceless, misleading or distorted material" and places a positive obligation on journalists to report accurately and fairly.
Punjab, indeed many other states in India, have a deep-rooted proud history of protest and civil mobilisation. The role of Sikhs and Punjabis in peacefully agitating against British rule was a cornerstone of the Indian independence movement, and post Indian independence. Punjab has seen various civil protests (morchas) to secure the right of Punjab and Punjabis in the last five decades. We are concerned that during the 1980's many legitimate demands for autonomy were similarly mischaracterised as terrorism and legitimate demands for federalism and autonomy were labelled as militancy, terrorism and violent separatism. The last mass scale mobilisation of Punjab farmers advocating for reform was the Grain Roko Morcha (stop grain protest), which culminated from the wider protests for autonomy arising from the Anandpur Sahib Resolution of 1976. The failure of the then central Government to positively engage with those issues and the brutal crackdown in Punjab which followed were instrumental in the cataclysmic events of Operation Bluestar in June 1984, the pogroms and genocidal massacres of Sikhs in Delhi and across India in November 1984, resulting in a decade of violence and insurgency between 1984 – 1995 in which thousands of Sikh youth were enforced disappeared and extra-judicially executed by state and security forces with basic fundamental rights suspended and violated.
In our work in documenting these deaths and disappearances during that period, we can confirm that over 90% of victims came from an agrarian or farming background. Punjab has never recovered from those scars. All right-thinking Punjabis do not wish to see a return to any cycle of violence and brutal violations of human rights that took place during this period and are concerned at the violation and curtailment of fundamental rights of those protesting against these oppressive and coercive measures as well as the demonisation and mischaracterisation of their legitimate concerns and grievances.
The farmers and protestors have faced serious and grave threats to their liberty and their fundamental right to peacefully assemble, association and freedom of expression and speech. If the Government of India and State Governments continue to use excessive and disproportionate force, including the use of tear case, water cannons, lathi and baton charge, as a deterrent to those who are exercising their fundamental right to peacefully protest, then India is in breach of both its own constitutionally enshrined rights and of International human rights law.
We call upon the State and central government to allow the protestors to exercise their right of peaceful protests without the fear of arbitrary arrest, detention or hinderance and to engage in constructive dialogue with all stakeholders in order to find an equitable solution. We remind the Government of India that the UN Secretary General Antonio Guterres has in recent days urged the Government of India to allow protestors to exercise their fundamental right to peaceful demonstration. We also ask the Government of India to release all protestors arbitrarily detained and the withdrawal of criminal cases against them. Both the Central and State Government must allow safe passage of farmers and protestors who are making their way to Delhi and other protest sites across India.
Punjab Documentation and Advocacy Project (PDAP)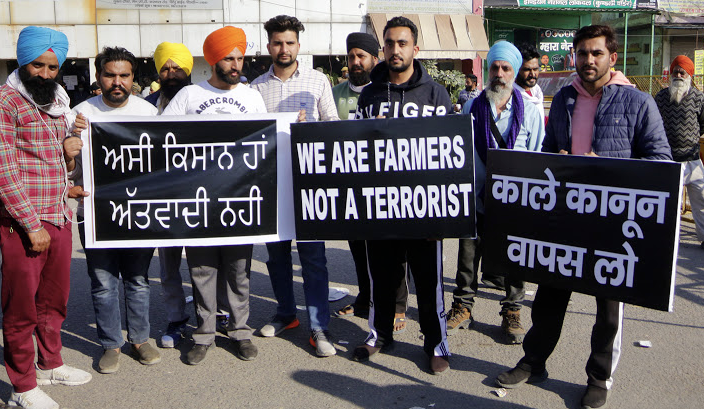 https://punjabdisappeared.org/wp-content/uploads/2021/02/Indian-women-farmers-protesting.png
429
794
Sukhjit
https://punjabdisappeared.org/wp-content/uploads/2017/03/punjab.png
Sukhjit
2020-12-10 10:58:06
2021-02-02 02:04:16
Press Note: Farmers in India and the fundamental right to protest